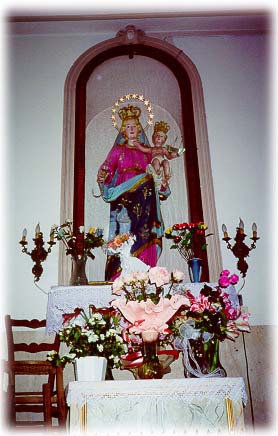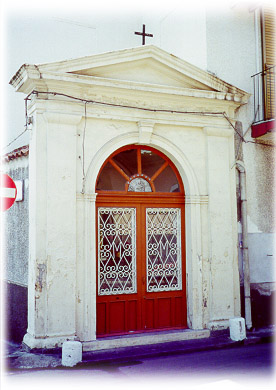 The "Madonna della Buona Nuova" is celebrated

every years to Acitrezza the first Sunday of September. We don't know, however, when and who introduced its cult, we know that the festivity was introduced in 1923, instead. Madonna is the Protecting of the sailors who when leave for sea entrust to her their destiny. The statue is in the church of Saint John the Baptist (in the picture) is dated 1911 and it was done by Angelo Musumeci. At the north of the town, on the main way, is situated an aedicule (lower picture) dedicated to her, constructed in 1871 thanks to the sailors. There is a picture representing the Madonna who brings in arm Jesus with a small ship in the hand. Before that the aedicule was done, there was another one older, close to the sea, that it was destroyed. In 1916 after the increase of the population, the archpriest of Acitrezza, Father

De Maria bought in the zone called " Scalazza " a land to build the church of the Madonna. Today, on that land, an evocative church exists where are celebrated Mass and marriages. On the Great Rock, in 1954, a statue was erected representing the Madonna, reachable by boat, going up to the "Faraglione", where is a landing place for the boats. Here, people just married go to put a small bunch of flowers so that Madonna protects them. 1st September of 1995 was celebrated a Mass on the Faraglione for the fourty years from the placing of the statue, celebrated by the bishop of Acireale with the participation of the faithfuls who assisted to the Mass from the boats. During the festivity, the statue of the Madonna goes around the town followed by a band and fireworks. We can find the stands of "calia": seeds, chickpeas, carob, peanuts and pistachios. During the procession of the festivity, in the central public square there is the auction of gifts collected from the festivity's managers in the morning; gifts given from the faithfuls. There are two funny people of Acitrezza: "Zio Nino motto" and "Zio Nino jaddina" "a vanniare" (shouting) on the stage selling the gifts. The festivity is closed with the back of the statue to the church and the fireworks that illuminate the Lachea island and the Faraglioni.